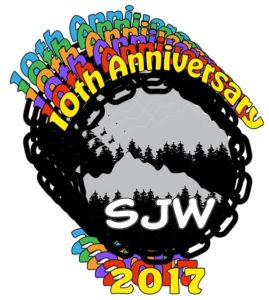 We, the producers, want to express to everyone how much gratitude we have for you all who attended SJW this year!
We know there were some bumps in the road with parking, etc. and you jumped right in to help make it work. When someone was struggling, you reached out to one another. We asked for help and you stepped up when needed; thank you. We cannot express how much you all mean to us and how we appreciate your "get 'er done" spirits.
You all bring so much joy, determination, adventure, compassion and just all around fabulous energy to the mountain each year. The smiles on your faces, the connections you make, the unfoldment of the journey for each of you is what brings us stepping back up to the plate every time to make sure Submissive Journey Weekend is there every year.
This year we connected with our roots and acknowledged those who came before us. They lifted us up and remain in our hearts as we travel forward. We spoke so much about growth, our struggles, our loves and our poTENtial. Keep that close in your hearts, encourage it to grow and share it with others. Don't be afraid to reach out to the ones you connected with this weekend, strengthen those networks, share your knowledge with others, keep learning, keep growing, build those bonds and love yourselves!
Come grow with us in 2018!
Your SJW Production Team,
talina, cricket, Mags & zilah